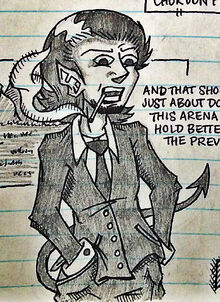 Biography
Edit
Name : Chor'von Addermin
Debut : Chapter 4
Death : Chapter 9
Affiliations : Red Lupus Army
Occupations : First Lieutenant to Almighty
Alias : Chor'von
Epithet : "Son Of A Reaper"
Age : Chapter Four (25)
Birthday : May 20, 1986
Height : (6'0)
Weight : 158 lbs
Hair Color : Black
Skin Color : Grey
Eye Color : Dark Green
Race : Dellyian
Planet : Dello'
Signature Attack : N/A
Chor'von Addermin, First Lieutenant in the Red Lupus Army and son to one of the original Reapers. Chor'von wasn't always in the Red Lupus Army, before he joined he was traveling with Almighty to different solar systems but instead of challenging the strongest warriors like Almighty would, Chor'von would mess around with the different species of females on each planet they stopped on. Chor'von wasn't a warrior but he had no problem defending himself when he needed to, it wasn't until Almighty and Chor'von joined the Red Lupus Army where he would start focusing on combat more.
Chor'von was told by the leader of the Red Lupus Army that he would have to accompany Almighty on every mission he went on, Chor'von had no problem with this because he had already been traveling with Almighty for so long, and the two of them had already grown to be "brothers" to one another.
Death Of Chor'von
Edit
Chor'von was defeated by Glory & Dolfin in the second round of the universe tournament.