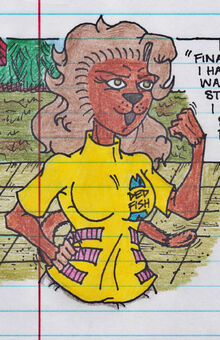 Biography
Edit
Name : Daphnee Phi Shores
Debut : Chapter 5
Affiliations : N/A
Occupations : Assassin
Alias : Daphnee ; Daph (Star only)
Epithet : "Pink Assassin"
Age : Chapter Five (18)
Birthday : August 9, 1992
Height : (5'9)
Weight : 140 lbs
Hair Color : Toupe
Skin Color : Light Brown
Eye Color : Gold
Race : Amakian
Planet : Amako
Signature Attack : "Bast Shot"
Daphnee Shores is an Amakian assassin that is participating in the universe tournament. Daphnee is also considered to be Rentrinquilla's "sister" and the two have known each other for at least three years. Daphnee met Rentrinquilla on the planet Lefos in 2009, at the same time met Star's best friend or "sister" Rahbecka. The three girls apparently went on an adventure of some kind and after had some sort of splitting, and when Daphnee sees Star on Earth at the universe tournament it's the first time the two have seen each other in two years.